St. Baldrick's Raises Awareness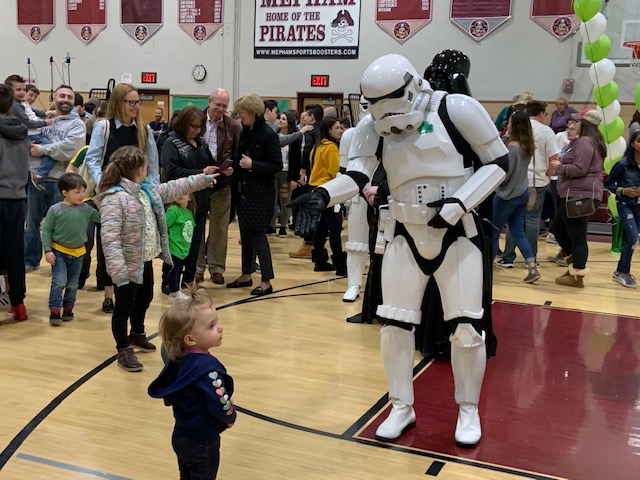 This year on the 20th of March was the 9th annual Mepham Chop Your Locks for Charity event. All money raised and hair donated will help fight childhood cancer. Students could shave their head, donate a ponytail of 8" or donate money.
The Mepham community raised over 45,000 dollars for the cause. During this event, there were four children being honored for their fight with cancer: Giuliana, Robert, Gabriel and Kristen.
During the event, over 100 people shaved their heads and over 40 people donated more than 8 inches of hair. The event also had face painting, hair braiding and raffles for all who attended.
In addition, some guest appearances were made by Darth Vader, Storm Troopers, bagpipe players and Irish step dancers. The Skull and Bones Drama Club performed a special sneak peak of their new hit show, Freaky Friday.
Ms. Dennis said, "The event is co-organized by Mr. Patten and myself along with the seniors in Participation in Government. We are so proud of the efforts of our students in putting this event together. From fundraising to gathering raffle prizes and promoting the event, they went above and beyond and truly showcased why Mepham is such a special place. Their efforts along with the help of our School and Community Leadership students as well numerous student and faculty volunteers and the support of our entire Bellmore-Merrick community led to $47,414 raised to combat childhood cancer."
Overall, the 9th annual Mepham Chop Your Locks for Charity event was very successful. Thanks to everyone that helped make it possible.Mepham raised a lot of money to help kids with cancer. Make sure to come support this event next year!